AUSTRALIAN PORKMARK AWARDS
Yet again our production team has been rewarded for its fine work Producing Christmas Leg Hams.
Mondo Doro received the top Award for our Christmas Boneless Leg Hams.
A big congratulations to everyone here at Mondo Doro Smallgoods on this prestigious award.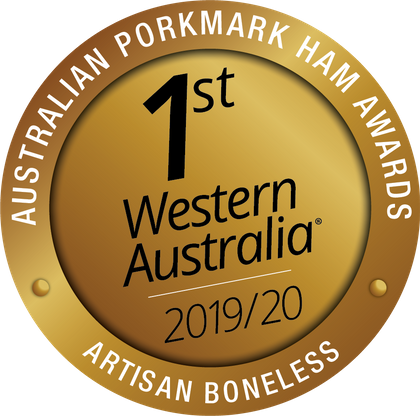 MONDO DORO ITALIAN FIREWORKS NIGHT
This year MONDO DORO sponsored The Italian Fireworks night at GLOUSTER PARK.
It was a great night for all with displays of all things italian including food, music, racing (THE MONDO DORO CUP) and tastings of our smallgoods finished off with a spectacular fireworks display. We will be there again in 2020.


PERTH ROYAL SHOW SMALLGOODS AWARDS
It was a fantastic result for Mondo Doro at the recent Perth Royal Show Food Awards. Mondo Doro took out numerous awards including 3 Gold, 6 Silver and receiving the CHAMPION Award for products deemed to be extraordinary.
A massive congratulations to our entire production team for their exceptional attention to detail.
PERTH GLUTEN FREE EXPO

The GLUTEN FREE EXPO PERTH will be taking place at THE PERTH CONVENTION & EXHIBITION CENTRE SAT 16 & SUN 17 MARCH. MONDO DORO Will be exhibiting and sampling a few of over 60+products which are 100% Gluten Free.
Our Premises have been 100% Gluten Free for over 6 years now and we are fully endorsed by Coeliac Australia.
We will also be at the PROVEDORES MARKET at PISCONERI FINE FOODS on SATURDAY 13 APRIL.
This family friendly market is a great day out for all to come and enjoy.
HERE'S TO THE NEW YEAR 2019

It was great having Jordan Bruno from MKR on board with our Nova 93.7 campaign.
Jordan produced these amazing grazing tables and Platters using Mondo Doro Smallgoods.
It's been a busy start to the year with new stores opening and restuarants and cafes jumping on board.
We are also excited that GA Zimbulis & Sons has incorporated our Roast Beef on a recipe that was approved and now available on QANTAS.
NOVA 93.7 GRAZING PLATTER COMPETITION
#mondoplatter


MONDO DORO SMALLGOODS with NOVA 93.7 are giving you the opportunity to win The ULTIMATE GRAZING PLATTER.
Follow the links and use #mondoplatter to be in the running to win this fantastic prize.
PORK MARK AWARDS 1st PRIZE

Congratulations to our production team for producing another award winning Christmas Ham.
We are delighted to announce we received GOLD for our ham at this years PORK MARK AWARDS.
Our hams are of the highest quality made using 100% Australian Pork.
This Christmas make sure its a MONDO DORO SMALLGOODS HAM.
COELIAC AUSTRALIA ENDORSEMENT
We are pleased to announce that after meeting all requirements, Mondo Doro Smallgoods Gluten Free award winning products are now endorsed by Coeliac Australia and approved as 100% Gluten Free.
The Coeliac Australia endorsement logo is nationally recognised for those who need to follow a Gluten Free diet and make confident food choices.

2018 PERTH ROYAL SMALLGOODS AWARDS
At the inaugural PERTH ROYAL SMALLGOODS AWARDS held in June this year, several of our products received medals over many catagories.
Again our Bacon Rindless was singled out for a Gold medal. Other products including our Waygu Bresaola, Cacciatore Sausage, Lombo,Middle Speck Bacon, Salame Classico, Salame Rosso, Chorizo and Leg Hams also taking out medals.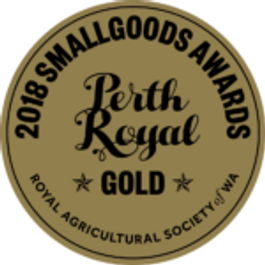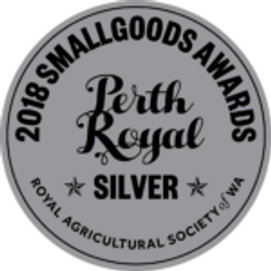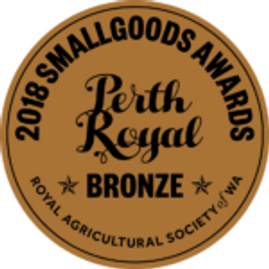 COUNTRY OF ORIGIN LABELLING
AHA EXPO 2018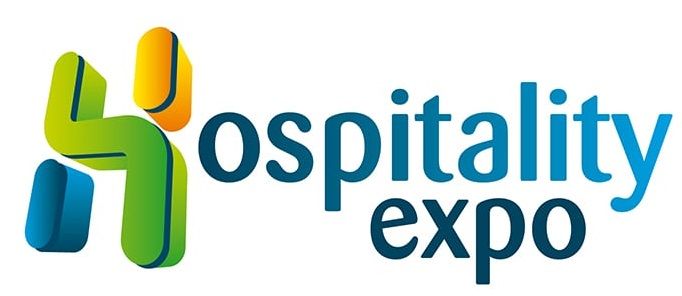 Mondo Doro will feature as an exhibitor for the first time at this years AHA HOSPITALITY EXPO.
We will be showcasing our company and products to the Hospitality Industry at one of Australia's largest annuaul trade-only hospitality expos. The Expo will be held on Tuesday 15th and Wednesday the 16th of May 2018 at CROWN PERTH from 11.30am- 6pm.
If you are a key customer (retailers) or supplier who would like to be invited on behalf of Mondo Doro, please contact us to be sent an official invitation.
Bacon Festival and Provedores Markets in April

This year we will be back at The Fremantle Bacon Festival at the Fremantle Esplanade Hotel.
This great event showcases all things Bacon. We will have samples of all our Bacon styles and you will be able to purchase some bacon products as well.
Pisconeri fine food and wine will be having another Provedores Market on Saturday April 14th. A great day for all food lovers come join in the fun and Italian vibe at this fantastic market.
We will be sampling our famous Cacciatore and Chorizo as well as other tasty smallgoods.
Lock these dates in for some great food adventures.
Our New Ad on Network 10

We have a series of ads running on Network 10 ( channel 1, 10 and 11) for the next few months.
Keep an eye out for our ad or check it out on our FaceBook page where we have a competion running.
We are also excited to annouce that we have secured a spot in this years AHA Hospitality Expo. The Expo will be in May on the 15th and 16th of May so keep an eye out for us when you are there, we would love to discuss our product range with you so you too can have our Quality smallgoods in your Restaurant, Cafe, Hotel, Deli and Supermarket.
tps://www.facebook.com/mondo.doro.1/
NEW PRODUCTS NOW AVAILABLE !!!!!
Our famous Cheese and Chilli Sausages will now be available in a 500g pack for you to enjoy at home.
If you would like to stock these in you Deli or Supermarket please contact us.
Also available now is our Streaky Bacon. Full of flavour this is the new trend with many Restuarants and Cafes and pizzerias. Availabe in 2.5kg packs we also have Free Range Available.
End of 2017 and whats new in 2018
Christmas 2017 was another succesful year at mondo doro for delivering the highest in quality Christmas leg hams.
Our hams which are produced using only the the best local and Australian pork are setting a benchmark at Christmas time
and all year round with our Leg ham on the bone and Easy carve varieties.
In 2018 Mondo Doro will be releasing television advertising on the channel 10 network.
We are excited to be on board at channel 10 and can't wait for the ads to be screened. Look out for them.
We will also have new products hitting the shelves in the next few weeks to join to our newest product SALUMI MIX antipasto
deli packs available in Farmer Jacks, Spudshed and IGA stores in Mild or Hot versions (check for other stockists)
If you would like to stock Mondo Doro products in your cafe, restaurant, supermarket, deli or butcher, please contact us to
arrange for one of our representatives to see you and help you get on your way.
EDGE Employment Solutions Awards

Mondo Doro Smallgoods was presented with the 'Acknowledgement of Significant Contribution by an employer in providing qaulity employment outcomes for people with disabilities' award at the Hyatt Regency.
We would like to extend a big thankyou to EDGE Employment Solutions for the recognition and a big thanks to senior management for months of hard work in the recruitment process.
One of our strong company philosophies when seeking new employmentis to look 'look at the person, Not the problem, and what they have to offer'.
Australian Pork Mark Awards 2016-17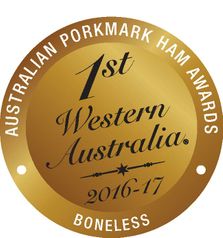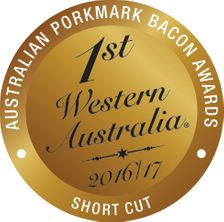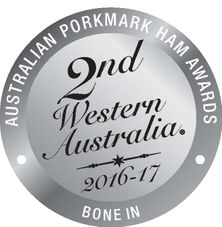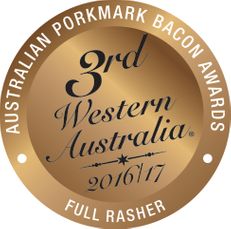 We are proud to have received Awards at the 2016-17 Australian Pork Mark Awards.
Mono Doro was presented with Two Gold, A Silver and A bronze medal.
Our Boneless Hams and Short Cut Bacon were presented with Gold Medals With Our Bone In winning Silver and our Rasher Bacon taking home a Bronze. The Company was rewarded for its hard work in always trying to achieve the best product using the the very best West Australian and Australian Produce.
AMIC Awards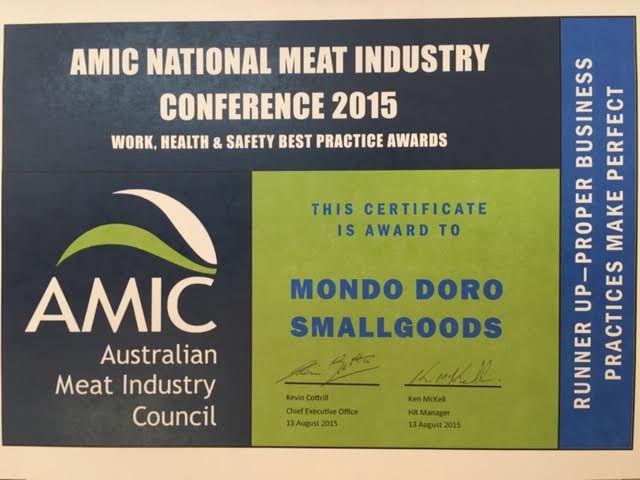 Mondo Doro was Awarded the Runner Up award at the Australia Meat Council National Awards.
The National Work Health and Safety and Best Practice Award was Presented to Danny Ciampini who had earlier made a presentation outlining company work health and safety practices and procedures
Austrlian Pork Mark Awards 2015-16